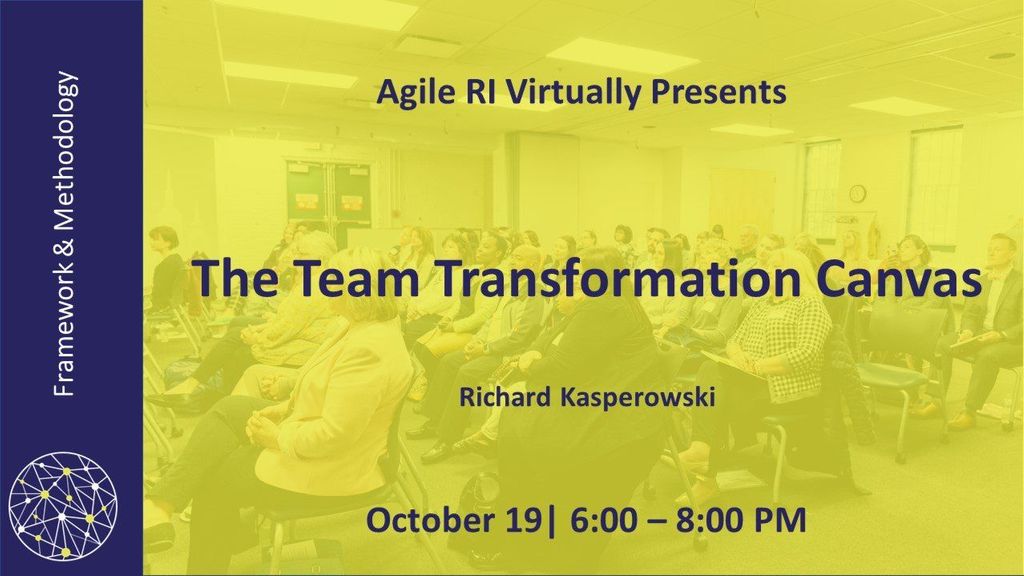 The Team Transformation Canvas @ Agile RI
October 19 @ 6:00 pm

-

8:00 pm

The Team Transformation Canvas
The canvas facilitates individual self-awareness of your current emotional state and desired personal outcomes. It helps you develop a deepened understanding of what drives your behaviors and actions. By identifying and owning these intrinsic motivations, you align your future actions with your most inherent needs, creating your unique pathway to professional and personal self-actualization. Finally, the canvas facilitates deep emotional and supportive connections with each other — the building blocks of a high-performance team.
The canvas can be used as a solitary, contemplative exercise for self-improvement, or as a tool for bootstrapping a team toward intentional greatness.
About the Speaker
Richard Kasperowski is an author, teacher, speaker, and coach focused on team building and high-performance teams. Richard is the author of two books, High-Performance Teams: The Foundations and The Core Protocols: A Guide to Greatness, as well as the forthcoming book High-Performance Teams: Core Protocols for Psychological Safety and Emotional Intelligence. He leads clients in building great teams that get great results using the Core Protocols, Agile, and Open Space Technology. Richard created and teaches the class Agile Software Development at Harvard University.
Share this story: