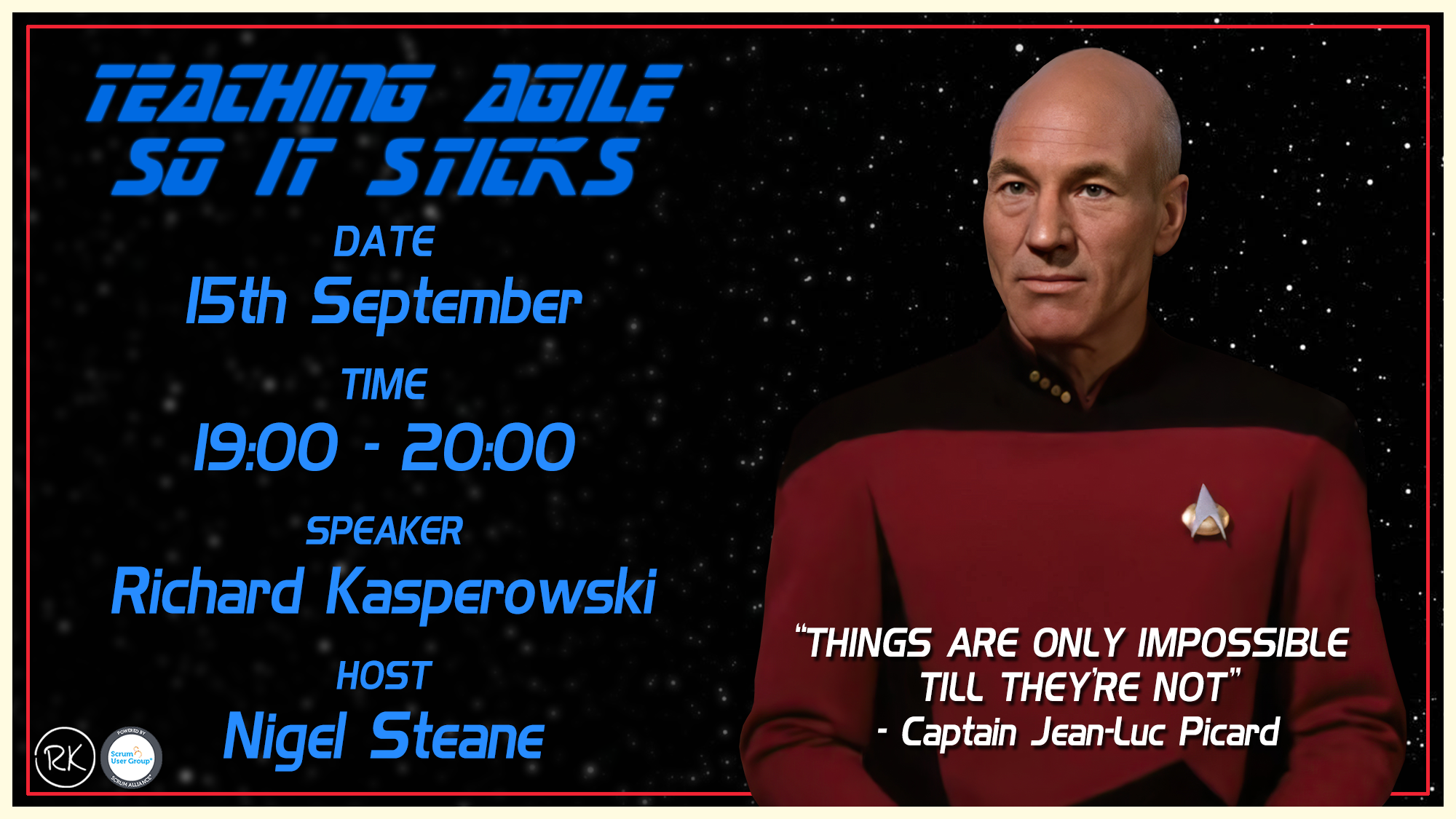 "Teaching Agile So It Sticks" with Richard Kasperowski
September 15 @ 6:50 pm

-

8:00 pm
Video from our session:
A 3 part series of short agile talks….Where No Scrum User Group Has Gone Before.
I'm really pleased to announce that Richard Kasperowski will be our first international speaker talking to us from Boston in the US. This is part 1 of a three part series of 60 minute talks.
Teaching Agile So It Sticks is all about how to teach Agile (or anything) so people learn skills and immediately put them into practice.
About Richard
Richard Kasperowski is an author, teacher, speaker, and coach focused on team building and high-performance teams. Richard is the author of two books: High-Performance Teams: The Foundations and The Core Protocols: A Guide to Greatness, as well as the forthcoming book High-Performance Teams: Core Protocols for Psychological Safety and Emotional Intelligence. He leads clients in building and maintaining high-performance teams that get great results using the Core Protocols, Agile, and Open Space Technology. Richard created and teaches the course Agile Software Development at Harvard University, and he co-teaches the Spark! fellowship at Boston University.
Learn more about Richard at:
Web: https://kasperowski.com/
Twitter: https://twitter.com/rkasper
LinkedIn: https://www.linkedin.com/in/kasperowski/
Facebook: https://www.facebook.com/rkasperowski/
A link to attend will be sent out shortly before the event. We will open the event at 18:50 for a start at 19:00.
This event is free for user group members and if you are certified via the Scrum Alliance you will earn SEU's by attending.