Lynn Langit: Make Every Team You Are in the Best Team of Your Life
In this episode, Richard interviews Lynn Langit, a cloud architect specialized in big data, a technical educator, and an angel investor. Lynn also used to be the Director of teachingkidsprogramming.org, a not-for-profit online platform for early coding education. She is also a contract instructor at LinkedIn Learning where she has more than 20 courses on cloud topics. Lynn shares with us the secrets of making every team you work with the best team of your life.
Listen Audio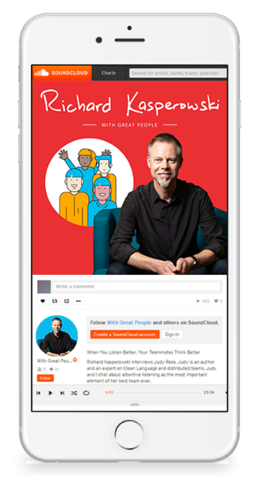 Richard:
Hi friends. Welcome back to With Great People, the podcast for high-performance teams. I'm Richard Kasperowski. Our special guest today is Lynn Langit. Lynn is a cloud and big data architect. And actually I first met Lynn in her role, I first knew about Lynn and her role as the director and lead courseware developer for Teaching Kids Programming, teachingkidsprogramming.org. To support this podcast, visit my website, kasperowski.com.
Richard:
Hi Lynn, thank you so much for joining me today.
Lynn:
Hello. I'm glad to be here.
Richard:
Is there anything else you'd like to add on to that introduction?
Lynn:
Yeah. In addition to production work as a cloud architect, I am a contract instructor for LinkedIn Learning and I have about 25 active courses on cloud topics out there.
Richard:
How can people find this?
Lynn:
Just, I have an internet easy name, Langit like dang it. I'm Lynn Langit. If you can't find me, you're not looking.
Richard:
Right. Now, this is the podcast about teams. And I ask everybody the same question. It's a question I'm genuinely curious about. I love to understand teams and what makes teams work and not just teams, but the best teams that people have ever been on in their lives. So how about you, what's the best team that you have ever been a member of in your life?
Lynn:
Well, the one that I'm working on now.
Richard:
Okay and you don't mean you and me recording this podcast.
Lynn:
Well, the way that I work is I work a deliverable at a time, contract at a time with various customers. Lately I've been working in bioinformatics, been very busy because of COVID. A lot of the cancer genomic research that my company was supporting pivoted to COVID. And so it really just became more work over the past year or so and many different clients. And so I bring together virtual teams and I've been now in business for more than 10 years. And I have always worked in this way. So it's not something from the pandemic or anything. I always plucked out the most capable person and said, "Let's get on whatever platform and let's collaborate." I very rarely worked in the same room. So what's different now…
Richard:
What is this team that you're on right now?
Lynn:
So they're all dynamic. They all ebb and flow. I pay most of my subcontractors hourly, so I make it so I get enough for my deliverables that I can just basically call up when I need a specialist in A, B or C, and then we might work for an hour. We might work for two hours. We might work for four hours, probably not any longer than that at a time. We might work every day for a week. We might work once. It's just completely flexible and dynamic in an extreme way.
Richard:
Okay. Now let me make sure I totally get this. The team you're on now, do you mean literally the team you're on right now or do you mean at any given moment, the team you're on [crosstalk 00:03:35]
Lynn:
This is the way I have been working for 10 years. And in thinking about talking about teams, I have I've gone in to companies that where they have full-time employees and they're fantastic and all kinds of dynamics of great teams. I think that a lot of your programs covered those dynamics. When I was thinking about how I can sort of add to your repertoire, what I really didn't hear is this maybe bizarre way that I work, which is I almost think of it like the National Guard. We've had the National Guard called up so many times this year and I live in Minneapolis, Minnesota. So I've really seen the National Guard a lot. So National Guard, they have regular jobs and your regular life, but when there's an extreme need, the National Guard gets called up. And that's kind of like my team, it's like a special forces. So I know this person that does Terraform. I know this person that does Docker optimization. I know this person that does Amazon IAM policies. And I just know all these specialists. And when I need X, I'll go and get them.
Richard:
This is so fascinating. I don't even know how to follow up on this. The team I'm on at any given moment is the best team of my life.
Lynn:
Well, so I was kind of thinking about this. I was like, how do I describe this? And I thought we're on… Because especially now with genomics, I mean, we are on the cutting edge. We're doing problems that at scale and complexity, that if you Google it, there's no answer. Where I can't Google it [inaudible 00:05:10] problems. So the analogy is more from a different sort of industry. And I don't know how this will go, but this is what I was thinking. The Oceans movies, Oceans Eleven, Oceans Eight. We're doing a caper basically. So we have this really difficult challenge that people think is impossible. I mean, I'll make an example. I had one client in Australia and they had some genomic process and it was on a mainframe and it took 500 hours and they said for one run, and it would fail half the time, and they said, can you do something on the cloud? So and it took me quite a while for various reasons. I wasn't there, dah, dah, dah, dah. But eight months later, we got it down to 10 minutes.
Richard:
Wow. All right. So you and your team on the caper.
Lynn:
Special forces.
Richard:
We're going to get this done in 500 hours or we'll get this caper done in 10 minutes. Okay. The next question I'd like to ask is if you could… I mean, this is very current. I'm often encouraging people to go back in time and re-experience that best team, but this is now. How could you describe that team, that this kind of team, this way of working, the sensation of this sort of way of working in one word? What would your one word be for this kind of team?
Lynn:
Tactical.
Richard:
Tactical? And what do you mean by tactical?
Lynn:
We're extremely practical would be another word. Who can do this? Who can accomplish this? I'll give you an another example of this kind of team. And this is just such a memorable thing. Gosh, this is a long time ago. It was when the earthquake happened in Haiti. Remember that?
Richard:
Yeah.
Lynn:
So I happened to be in Microsoft's headquarters in Silicon Valley. And there was supposed to be a conference on a Saturday. And being in Silicon Valley, there were a lot of Google and whoever people there. And kind of been spying on each other and not for a positive reason. So there had been this effort in New York where they triangulated cell phone data to get the people off the rooftops. And that was somebody knew somebody at the UN from Google. And they just started it and they said, "Okay, we are saving people's lives. We have to go to bed. Can you people in California takeover?"
Lynn:
And I mean, it was the most empowering six hours I've ever had. It was like, it's my dream of tech, because we had Microsoft people sitting next to Google people. We created a Creole translator and deployed it within two hours live on Google. It was like, "Why can't we always be like this?" There were men, there were women, there were people of color. There were people that were 60 years old, 20 years old. It was like this is what tech should be. And who can do this? Who can do this? It was like a war zone kind of because it was we were saving people's lives. Minutes mattered. And okay, I don't work at that intensity all the time, but it's that process that I try to replicate with people.
Richard:
Mm-hmm (affirmative). And I love that question you asked, why can't we be like this all the time? It's perfect because you've experienced that. And like, why can't we be like that all the time? Okay. This team of the moment, this tactical team, this dynamic team, this practical team, how do you know that it's a great team? I've asked you for the best team of your life. How do you know subjectively what is it like? How do you know objectively? How do you measure?
Lynn:
The Oceans movies. Okay. So they call up and they go… They're doing some other job or they're rich and they're on some island. They don't even need to work whatever. And they're like, come on, safecracker Joe, or crypto Sally or whatever talent. Come on, come on, come on. And they don't really even need to do it, but they do it because they like each other. They want to work together. They respect each other's skills. It's fun. It's fun doing the thing that you can't Google. When I call people, I'll call people after years. I had one just recently about some new project I was doing here and I hadn't talked to him for three years. And I was like, "I just think about working with you because you're awesome." And he's like, "I do too. Let's do something. Let's work on a really cool problem."
Lynn:
So and I guess the reverse of that is if you don't have that feeling, then you just sort of let that person go do something else. And I mean, I've realized this is extremely luxurious position to be in. I had many years where I had a corporate job and yet [inaudible 00:10:22] but why not imagine a future if you can.
Richard:
So I love this. It's all these sensations. You know it's a great team because you don't have to and ultimately, because it's fun and then you want to work together. Now how about objectively? Are there any things that we could measure somebody from the outside would notice?
Lynn:
Yeah, we have to deliver working software that customer uses. That's the bar and that the customer uses is included. I cannot tell you how many times I have talked to whoever and well, I did it with a, I won't say who, but a genomics customer. They had some Lalalalalala. And I said, "Okay, what percentage of your researchers have put a file into a bucket in the cloud? Because they're not going to use your ladiladila if their data's not up there." Oh, we don't know. That's a good question. They measured it. It was less than 15%. It was like you can't if you build it, they will come. No, that's not software. I mean, it says it on my Twitter, making things that people want to use.
Lynn:
And to do that, you have to talk to people. I mean, again, I think part of it is what your background is. One of the things, when I look for my SWAT teams, if you will, is people that have had these kinds of experiences. I always joke that the best training to make software is being a waitress because you learn who pays your tips. And there's just too many people in software that haven't had that experience. And so I mean, they're just misguided I think, more than anything. But again, I'm in this position where I am going to be able to work with people who understand who we're working for and what we're working for, which is so that our customers are just, we're solving real customer problems with technology.
Richard:
Right. And this is beautiful. This is really, really important. There's a lot of listeners of this podcast are into agile software development. And there's this line somewhere in the agile manifesto that says something like working software is the primary measure of progress. But you've got it even better, working software that the customer uses. That's…
Lynn:
Yup. I ask that when I go into new consulting all the time. How many people are using your software? And it's just shocking to me that I have to ask that question. And then I mean, the level up is, and what do they like most about it? It's this much that people can actually answer that question. Which is like, who pays your tips? Come on.
Richard:
Who pays your tips? Yeah, yeah. You're saying it as who pays your tips. I first got this sense from doing projects where I got paid for getting it done versus getting paid by the hour, by the day, or by the payroll period. I would get paid for getting it done and that they were happy. They were so happy that they would give me the money. Which is like being a waitress. They're so happy that they'll give you the money. And it's different from… It totally screwed up my brain. I can't work on a salary anymore because it's just a totally different style of motivation and getting paid. And I have worked on salaries with other people and I would always try to get them to be in this mindset. We're not just here to show up and get paid.
Richard:
It's not we get paid no matter what, whether we do good work or not do good work, or whether we get a ton or not get it done. It's what if we only got paid if we got it done and they were so happy, they wanted to give us money for it? How would that change the way we work? It's totally different. So what are some concrete behaviors that if we were to watch one of your Oceans blank teams or you as the lead, or maybe sometimes you're not the lead, what would we notice on one of these teams? What are things that people, I don't know, might even be able to replicate in their teams?
Lynn:
So human first that now in this world, turn on the video camera. Again, I'm stunned. I've been on entire meetings where no one's turned on the video camera, nine people. And they actually get miffed at me if I say, "Would it be possible that we can just say hello?" And I just realize that those aren't going to be a good fit for the way I want to work because human first. And are you feeling good about working today? I mean, that's really a simple question. And if the person says, no I'm sick, or my kid's sick or I'm stressed, or whatever, well, then the followup is, do you want to reschedule? Now again, I'm in this really luxurious position. I realize that. Not everybody can do this, but if you can, part of it is, you're so much more productive, too. Because you're choosing to work and you're having a comfort check basically.
Lynn:
Next thing is learning together. At work, I have a lot of people that come to me from LinkedIn Learning and they say, "Will you mentor me?" And I'm like, "No, I don't mentor people, but I work together. And if you want to work with me, then we'll work maybe an hour or two just to make sure that you're comfortable. And then you can be a subcontractor for me." And I probably had now maybe almost 15 people do that over the years. And it's been such an enjoyable experience. It's so interesting. The behavior is learning together because they come to me because I was their instructor and they're intimidated usually. And so one of the first things that I say is, "Look, I know some things, you know some things. Google knows more things." So I consider it a positive thing to see who can Google faster. Because just Google it, Google it, Google it. Let's go. Let's go. Let's go. So learn together.
Lynn:
And then the third thing is, I'm an introvert. And the whole collaborative coding thing, I was dragged into it. And at first I have to tell you, I really hated it because it was enforced pairing. And everything, you must pair. You can't write one line of code unless you… That's crap for me anyway. I call it apart together. Again, it's a human first, creating software is a human first activity. Humans have moods. You ebb and flow. Sometimes, I mean, there are extreme extroverts. Okay, they do exist. But I think the greater majority of people are on sort of a spectrum of introversion and extroversion. And it depends on kind of your life and the context. So I call it apart together. One of the things that I'll say to people is do you want to work on this thing kind of on your own and then come back together on it? Do you want to try to do it together? So again, get this understanding between people. So again, to kind of summarize, human first, learn together, and apart together. Those are the behaviors that I think you would observe.
Richard:
What could listeners and viewers who want to have teams that are this successful do? What would you advise them?
Lynn:
Well, in addition to things I've said, something that I've really been working on is listening more because the more you listen, the more you learn. And I recently, I mean, just really recently, I had a bad cold. And I still was wanting to do work. And I was like, ah, what am I going to do? And I had some really new junior people. And I said I'm just going to listen and see what happens. I'm going to just tell them show me some project or something you've been working on so that I can kind of understand more about them. And I thought this was a little weird for me to pay them to do this, but I thought, well, it's going to improve our ability to work together. I did it as experiment. Oh, it was good. I should have done that before because I was amazed at how much I learned about how people thought, junior people, if I listened to them for as little as 15 minutes straight without talking.
Lynn:
Now you have to, because they get nervous, so this is what we're going to do. Are you comfortable with this? Can you just show me a project? And I'm just going to be quiet for 15 minutes. That was about as much as we both could be comfortable with at first. Then we did 30 minutes. And the thing that was so cool about it is I really learned a lot more about what they were capable of because when you're in that senior/junior position, it's so difficult to really understand what people are capable of because you're focusing on the problem. And then my whole consultancy is built around these principles of learn, build, teach. And it's a kind of a business thing. I don't do any marketing. I don't do any advertising, but I teach.
Lynn:
And so customers come to me because of things I've taught them and they say, "Oh, you taught me this. So can you help me with my actual business problem?" And so it's just been a strategy that's worked really well for me. Plus I think it helps the industry because I'm a visible technical woman and all that kind of stuff. So I try to share that with my team members and this new sort of technique of listening, what I'm doing is I'm teaching them to teach. So that's kind of my latest insight.
Richard:
I love it. I love it. Is there anything else you'd like to add?
Lynn:
As difficult as it is when I have someone new and I'm trying to figure out if they're going to be on my caper, it's actually best and you have to get agreement if you can just get to work first. Even if it's just like 15 minutes to 30 minutes, because it's just so much more informative to actually work with a person and then talk about it after, a little mini retro. But to not just talk, I mean, think we should [inaudible 00:21:27], just start dive in. But you have to, I think, it's very important because that's unusual. And again, you want people to be comfortable. You have to just sort of ask would this be possible? This is kind of set the structure so that people can… And this is weird, but let's try it kind of thing.
Richard:
How can listeners contact you? If somebody wants to get in touch with you, how do they do it again?
Lynn:
Well, I'm just kidding around. They can just Google me, but I'm pretty active on Twitter. So Twitter is probably a pretty good way. I do, unfortunately, I can't have open everything because of being a woman in tech. So just start on Twitter and then we'll kind of go from there. LinkedIn also, LinkedIn is good.
Richard:
All right. All right. Lynn Langit, Thank you so much for being with us today. It's really been a lot of fun for me to reconnect. Thank you.
Lynn:
You're welcome. Thanks for having me.
Richard:
And remember to support this podcast, visit my website, kasperowski.com.